Jack gets the soccer ball from his opponent, dribbles a little as he scans the field, and then passes the ball back to one of the defenders. That player turns the ball and passes it to his own goalie, as the other team rushes toward the goal, looking for an opportunity to take the ball back and score.  You can hear a few gasps and even a chuckle from the sidelines.  The parents cheering for the other team think our team has made a mistake and are hoping their boys can turn it into a goal.  Our goalie passes to a defender, and on goes the game.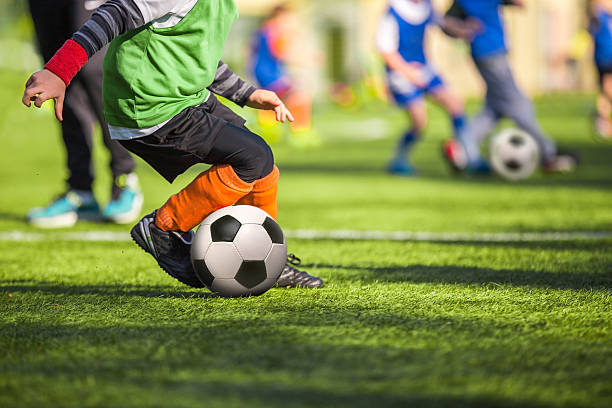 This is a scenario we have seen before. When our U9 soccer team has a good lead, our coach has the players pass and make sure everyone has touched the ball before they try to score.  We weren't sure if we should expect to see this during a tournament, though, since the total points scored helps determine the tournament ranking.
But, we weren't too surprised. Coach has let us know that he cares more about developing skills and teamwork and sportsmanship than about winning games, even tournaments (!).  He is looking at the bigger picture.  Sometimes the instructions he gives to the players don't make obvious sense from the perspective of a moment in a game, but those players do what he says.  They trust that he knows best and that he has a plan.
So you can see where I'm going with this. We have a Coach Who sets up plays and gives instructions.  He knows far more about the game than we do.  He sees beyond what we can see as we battle through the moments of this present game.  He cares about developing a team, not just individuals.  He cares about our character and that we learn to play well.
" 'For my thoughts are not your thoughts, neither are your ways my ways,' declares the Lord. 'As the heavens are higher than the earth, so are my ways higher than your ways and my thoughts than your thoughts.' " Isaiah 55:8-9
Sometimes we question the wisdom of how we are instructed to live, paths we are directed to take, decisions we are led to make. They don't make sense in the light of our goals, and sometimes they even seem like going backward.  It is at those times that we need to remember the communications we have received from the Coach and remember that He knows best and that He has a plan.
I think of the often quoted words from Jeremiah 29:11, " 'For I know the plans I have for you,' declares the Lord, 'plans to prosper you and not to harm you, plans to give you a hope and a future.' "   Remember to whom Jeremiah was delivering this message from God-a people who were in exile.  They were the losing team, down with no obvious chance of catching back up.  Their Coach said, "Don't worry.  Trust me.  I have a plan."  Look at the  verses that follow verse 11, " 'Then you will call on me and come and pray to me, and I will listen to you.  You will seek me and find me when you seek me with all your heart.  I will be found by you,' declares the Lord, 'and will bring you back from captivity…' "
Another story to help us get this message…
One day I planned to take our dog to walk at a local park. I loaded her up in the back of my mini van and headed out.  The drive was less than 10 minutes, but that dog cried and whined the whole time she was in the van.  She didn't like being there.  I think if you could have asked her, she would have wanted to head right back home.  But the thing I was doing that she didn't like was the way to get her to something she really enjoyed-a long walk in a new place.  She had to endure a little discomfort to get to the joy.
Thankfully, we are not dogs. But there are definitely times we find ourselves in uncomfortable and even painful situations, unsure where we are headed.  We have the benefit of being able to hear from the Driver and to know that He is trustworthy.  He has told us we are heading somewhere good.
Paul knew it. "I consider that our present sufferings are not worth comparing with the glory that will be revealed in us."  Romans 8:18.
Peter knew it. "And the God of all grace, who called you to his eternal glory in Christ, after you have suffered a little while, will himself restore you and make you strong, firm and steadfast.  To him be the power forever and ever.  Amen."  I Peter 5:10-11
You can know it. Trust the Coach.
By the way, the only way you got on the team was because He paid the fee. You couldn't afford it.  He wanted you on His team, so He paid a crazy high price to give you the opportunity to sign up.  ("For you know that it was not with perishable things such as silver and gold that you were redeemed from the empty way of life handed down to you from your ancestors, but with the precious blood of Christ, a lamb without blemish or defect."  I Peter 1:18-19)
He gave you that uniform to replace your dirty clothes. ("I delight greatly in the Lord; my soul rejoices in my God.  For he has clothed me with garments of salvation and arrayed me in a robe of his righteousness…"  Isaiah 61:10)
He has promised to supply all that you need to play. ("His divine power has given us everything we need for a godly life through our knowledge of him who called us by his own glory and goodness."  II Peter 1:3)
Jack's Coach Travis doesn't yell at the team. They know what he wants them to do because they spend lots of time with him at practice, and they are familiar with his voice.   We need to be spending time with our Coach, reading the messages He sent, letting Him teach us along with the team, listening and learning His voice.  He loves us.  His plan is perfect.  Let's follow His directions and trust that He is taking us somewhere amazing.
God, thanks that You are so beyond us. Your love is incredible.  Your sacrifice for us is more than we can comprehend.  Help us to be committed players on Your team, practicing, listening, trusting, obeying.  Help us to work together with our teammates, and help us to encourage them.  Teach us to look beyond this moment and live with our eyes on You and on eternity.  Pour Your grace on us.
-Leah
"Trust in the Lord with all your heart and lean not on your own understanding; in all your ways submit to him, and he will make your paths straight." Proverbs 3:5-6